Foundational Doctrines – Doctrine of Christ.
The foundation of our Christian faith is Jesus Christ the son of God. He is the author & finisher of our faith :
looking unto Jesus the author and finisher of our faith; who for the joy that was set before him endured the cross, despising the shame, and is sat down at the right hand of the throne of God. Hebrews 12:2
There are foundational doctrines in the Word of God that one must believe in as a Christian. You will find them in most Statements of Faith of Christian churches or Christian web pages.  The Bible states:
" Whosoever transgresseth (G3845 = depart, leave, be turned from), and abideth (G3306 = remain, stay, continue) not in the doctrine of Christ, hath not God. He that abideth in the doctrine of Christ, he hath both the Father and the Son. If there come any unto you, and bring not this doctrine, receive him not into your house, neither bid him God speed: For he that biddeth him God speed is partaker of his evil deeds."  2 John 1:9-11 .
The 'Doctrine of Christ' –doctrine means teachings, instructions. For this reason many consider the foundational doctrines to be all the teachings & instructions of Jesus, found in the New Testament. The book of Hebrews points out six foundational teachings (called doctrine of Christ) that every Christian should know & are considered milk. See  Hebrews 6:1-2. However some Christians only consider the 'Doctrine of Christ' to be the teachings about the person, nature & works of Christ (Christology), which includes the Gospel of Salvation.
We agree with many Christians that the  foundational doctrines include but are not necessarily limited to:
1/ The Scriptures– Inspired by the Holy Spirit, inerrant (as originally given) and sufficient for all Christian life. 2 Timothy 3:16-17; 2 Pet 1:20-21.  The Bible is God's revelation in written form & it is the final authority for every Christian in all matters of faith and morals. The Apostle Peter said "the word of the Lord endures forever" (1 Pet. 1:23-25) and therefore its authority cannot be broken. This is foundational to other essential doctrines.
– Many religions deny the sufficiency of Scripture or have their own translations or add as equal to Scriptures their own interpretations. e,g their church traditions or Catechisms (Catholicism – Council of Trent, Westminster Catechism, etc), their founders' new revelations (New Apostolic Reformation, Emergents, Word of Faith Movements, Hebrew Roots, etc.) , or their founders' doctrinal interpretations (Mormons, Jehovah's Witness, Scientology, etc.)
2/ Godhead– Through the Scriptures we learn there is one God (Deut. 6:4, Isaiah 45:22), Almighty, creator of all things (Gen.1:1). God cannot lie (Heb. 6:18; Titus 1:2). He is perfect, Infinite, and Eternal. He exists in three separate Persons : The Father, the Son, and the Holy Spirit, each one possessing all the attributes of Deity and personality. (Matthew 3:16-17 , Matthew 28:19-20; Genesis 11:7; Colossians 2:9 ; Acts 5:3-4; 2 Cor. 13:14). More bible verses here.
–  Some  non-trinitarians believe in God is one person that manifest himself in 3 ways or with 3 faces. Groups that reject the doctrine of the Trinity are: Mormons, Jehovah's Witnesses, Unitarians, Oneness Pentecostals, most Hebrew Roots, etc.
– Some others change God's character or take one of His attributes to the extreme disregarding the others:
"The first man fell because the Lord deemed it meet that he should" (John Calvin,  institutes of Christian Religion, Book 3, Chp.23, paragraph 8).   "God wills all things that come to pass…God desired for man to fall into sin…God created sin." (Calvinist R.C. Sproul, Jr., Almighty Over All , p. 54).
"God is able without blameworthy 'tempting' to see to it that a person does what God ordains for him to do even if it involves evil" (Neo-Calvinist John Piper, 'Spectacular sins: And their global purpose', Wheaton:Crossway, 2008, p. 24).
Please check:  Is God the author of sin?
3/ The Holy Spirit is the third Person of the Trinity not a force, whose ministry is to glorify the Lord Jesus Christ.  He accomplishes this ministry by convicting individuals of their sin, by regenerating, sealing, and indwelling the believer at the moment of conversion (Eph. 1:13), & by empowering the Christian for godly living and service.  (John 16:7-15; Tit. 3:5; 1 Cor. 6:19; 1 Cor. 12:13).
– Jehovah's Witnesses, & some Hebrew Roots among others, believe the Holy Spirit is not a person but God's force or power.
4/ The Son became incarnate (flesh) (John 1:1-3,14; 1st Timothy 3:16; Colossians 2:9). Jesus Christ is the only begotten Son of God (John 3:16). He was conceived of the Holy Spirit and born of the Virgin Mary (Matthew 1:18-25).
– Mormons, Jehovah's Witnesses & others believe Jesus is not God but that he was created by God. Mormons also teach Jesus is the brother of Satan.
5/ Christ's Deity, 100% God & 100% man. Jesus is Almighty God (John 1:1-3,14; John 10:33; Heb.1:8; 1st Timothy 3:16; Revelation 1:8).
– Gnostics, Masons, Mormons, Jehovah Witness, some in the Word of Faith movement & the New Apostolic Reformation reject this doctrine (e.g. Bill Johnson) deny Jesus was fully God & fully man when He came to earth.
6/ Jesus' sinless life and perfection (2 Corinthians 5:21; 1st Peter 2:21-22; Hebrews 4:15) even when carrying our sins to the cross. NAR & Word of Faith's teachers say Jesus became sin on the cross, took the nature of Satan & He needed to be born again. "Hear this! He who is the nature of God became the nature of Satan when he became sin!" (Benny Hinn, Trinity Broadcasting Network, December 1, 1990). "The righteousness of God was made to be sin. He accepted the sin nature of Satan in His own spirit." (Kenneth Copeland, "What Happened from the Cross to the Throne," 1990, audiotape #02-0017, side 2). This teaching is really from E.W Kenyon, (A Gnostic preacher who studied metaphysical & mind science, and mixed it with Christianity who influenced these Movements).
7/ Christ atonement, the substitutionary sacrifice of Christ (2 Corinthians 5:21) who died for our sins (1st Peter 1:18-19; Hebrews 9:12,22-24), according to the Scriptures available to all who receives Him, not a few elected ones. Jesus is the Savior for all mankind (Isaiah 53:1-12, Isaiah 62:11, Matthew 1:21, John 3:16 & 4:42, Romans 5:6-11, 1 Timothy 2:5-10):
"For therefore we both labour and suffer reproach, because we trust in the living God, who is the Saviour of ALL men, specially of those that believe." 1st Timothy 4:10

"The next day John seeth Jesus coming unto him, and saith, Behold the Lamb of God, which taketh away the sin of the world" .John 1:29

See also: 1 John 2:2 , 2 Peter 3:9,  Matt. 23:37, , etc.
-The five points of Calvinism makes changes to the Gospel of Salvation. They say this system of theology was reaffirmed by the Synod of Dort in 1619 as the doctrine of salvation. They reject the sacrifice of Christ is for all men (e.g. John Piper, John Mac Arthur, R.C Sproul, David Platt, etc).  Calvinists teach unconditional (selective) election– God before the world preselected certain individuals unto salvation. They also teach limited atonement– Christ's redeeming work was intended to save only the elect.  – If Calvinism were correct, then it would mean God created the majority of the world's inhabitants (past, present, & future ) simply to  send them to hell  without having a chance to be saved. (Not Good News but 'Bad News' to the majority of humanity). Even worse, having Almighty God the power to change that outcome, but not wishing to do so?… Sorry, but that's not the God I serve.
"For I, the Lord, love justice;" Isaiah 61:8; – The Lord is righteous in all his ways, and holy in all his works. Psalms 145:17   – 'For there is no respect of persons (favoritism) with God.' Romans 2:11, Acts 10:34.

  'I have set before you life and death, blessing and cursing: therefore choose life, ...' Deut. 30:19


O Jerusalem, Jerusalem, thou that killest the prophets, and stonest them which are sent unto thee, how often would I have gathered thy children together, even as a hen gathereth her chickens under her wings, and ye would not!" Matthew 23:37 -They chose no to.

 Say unto them, As I live, saith the Lord God, I have no pleasure in the death of the wicked; but that the wicked turn from his way and live: turn ye, turn ye from your evil ways; for why will ye die, O house of Israel? Ezekiel 33:11


In whom the god of this world hath blinded the minds of them which believe not, lest the light of the glorious gospel of Christ, who is the image of God, should shine unto them. 2 cor.4:4.      –  Notice it is the devil that blinds the minds of the unbelievers, not God.
8/ Christ's death, burial and bodily resurrection according to the Scriptures (1st Corinthians 15:1-4, 17). His physical body was transformed into a glorified body.
– Jehovah's Witness reject the resurrection of His body.  Also if you ask Catholics, they don't understand the resurrection. As a former Catholic for 25 years, I can say that we never learned it was a bodily resurrection, their crucifix is also a proof of that, we never prayed to a resurrected Christ.
9/ Jesus' precious blood cleanses our sins away (Ephesians 1:7, 2:13; Colossians 1:14,20; Hebrews 10:19; 1 Peter 1:18&19; 1 John 1:7; Revelation 1:5). "And according to the law almost everything must be cleansed with blood; without the shedding of blood there is no forgiveness. (Heb 9:22). "Forasmuch as ye know that ye were not redeemed with corruptible things, as silver and gold…But with the precious blood of Christ.." I Peter 1:18,19. "This is My blood of the covenant, which is poured out for many for the forgiveness of sins". Remember it is a blood covenant!
– John MacArthur stated (min. 1:54) that we "must stop short of saying that we are saved by the blood of Jesus". See comments by some pastors (1) . (Also this video).
"Of how much worse punishment, do you suppose, will he be thought worthy who has trampled the Son of God underfoot, counted the blood of the covenant by which he was sanctified a common thing, and insulted the Spirit of grace? " Heb.10:29
10/ Salvation by God's grace (undeserved favor) through faith alone (Ephesians 2:8-9), not by works. The Scriptures is clear & consistent in showing that faith precedes and is the condition for the new birth.
"Therefore being justified by faith, we have peace with God through our Lord Jesus Christ:" Rom.5:1,

"So then faith cometh by hearing, and hearing by the word of God."  Rom. 10:17.

In whom ye also trusted, after that ye heard the word of truth, the gospel of your salvation: in whom also after that ye believed, ye were sealed with that holy Spirit of promise. Eph. 1:13,

But without faith it is impossible to please him: for he that cometh to God must believe that he is, and that he is a rewarder of them that diligently seek him. Heb. 11:6.

See more – Jn 5:25, John 20:31; John 3:16,  Rom. 10:9, 1 Pt 1:23-25, etc.
Most Calvinists theologians & teachers believe the opposite, that new birth (Regeneration) precedes faith in Christ:
– R.C. Sproul writes: "The Reformed view … teaches that before a person can choose Christ … he must be born again … one does not first believe and then become reborn. A cardinal point of Reformed theology is the maxim: 'Regeneration precedes faith.', "The Reformed view of predestination teaches that before a person can choose Christ his heart must be changed. He must be born again." (Chosen By God, pp.10, 72-73).
– "Man is dead in trespasses and sins (Eph. 2:1). He cannot make himself new, or create new life in himself. He must be born of God. Then, with the new nature of God, he sees Christ for who he really is, and freely receives Christ for all that he is". (John Piper, 'Five Points' pg 35).
– A man is not regenerated because he has first believed in Christ, but he believes in Christ because has been regenerated (A. Pink, The Sovereignty of God).
– … Regeneration logically must initiate faith (MacArthur, Faith Works, 62).   – Do we first believe in Christ, and then become born again? Or, are we born again and then put our faith in Christ? What you believe about that sequence has everything to do with your understanding of the new birth, and … the permanence of divine salvation. If faith comes first, and then the new birth, it will be easy for you to fall into the error of conditional security. After all, if your personal faith initiated your new life in Christ, it makes sense that your faithlessness can remove you from that relationship too. (Grace to you, MacArthur's Web-page).  
– "You have been raised on this: 'If you believe in Jesus you will be born-again'; All the early Baptist confessions say: 'ye must be born-again in order to believe in Jesus.' That's the difference!" Paul  Washer-video.  
– Loraine Boettner. "A man is not save because he believes in Christ, he believes Christ because he is saved".
According to these statements we are not saved through faith !  – Which agrees with their Synod of Dort, – Error V .    – See here.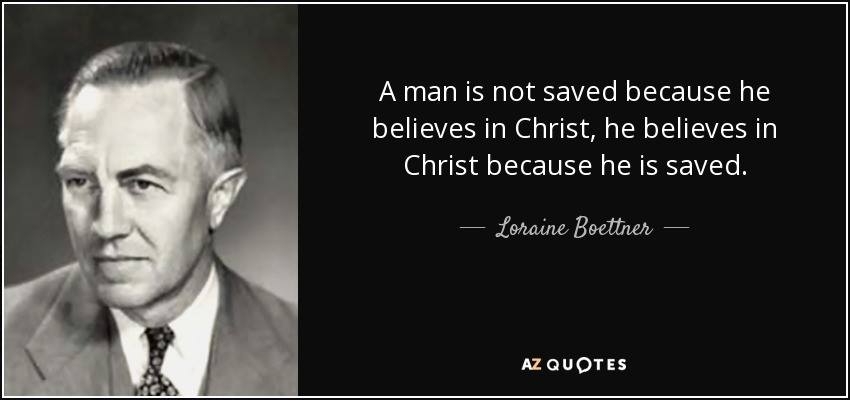 My question would be, why then a man needs to believe (have faith) in Christ ?  if he is already saved?  This distorts the gospel.  Calvinism erroneously equate spiritual death with physical death. The physically dead can't believe, & they can't sin either. But the spiritually dead can sin and also can hear and believe: "The hour…now is, when the dead shall hear the voice of the Son of God: and they that hear shall live" (John:5:25); Jesus said: "I am the resurrection, and the life: he that believeth in me, though he were dead, yet shall he live…" (John:11:25). We believe there is power in the Word of God, that can quicken a dead man to live, Ephesians 2:1, Psalm 33:6, Hebrews 4:12, etc.  See VIDEO.
For I am not ashamed of the gospel of Christ: for it is the power of God unto salvation to every one that believeth; to the Jew first, and also to the Greek. For therein is the righteousness of God revealed from faith to faith: as it is written, The just shall live by faith. Rom.1:16-17
– Calvinists also change or add to grace, for them it's irresistible (cannot be resisted or rejected) but the Bible says:
"Ye stiffnecked and uncircumcised in heart and ears, ye do always resist the Holy Ghost: as your fathers did, so do ye". Acts 7:51 . They also teach that grace is sovereign ( which means God choose to save the elect , the only ones he loved). This also is extra biblical,  made up to support their doctrine of election .
In the case of Catholics, Mormons, Jehovah's Witnesses, Seventh Day Adventist, etc. they believe in works for salvation.  They all have works, have nice charismatic teachers, that could be sincere, but mix truth with error & many times this teachers may sound good. But don't let their passion persuade you, we need to go deeper than that and make sure that what everybody teaches is according with the bible (sound doctrine), because some errors are very subtle but dangerous. – 1st Thessalonians 5:21  states: "Prove (G1381= examine, test ) all things; hold fast that which is good."
It is important please not to take any comments above as personal attacks, but rather, to allow them to motivate us to further Bible study & to continue examining all things we learn carefully. Any doctrine claiming to be based on the Bible must be carefully checked against the Bible.
-If any church leader or teachers who claims to be a Christian rejects or changes any of these foundational doctrines above, then he's causing division & according to the Word of God  he needs to be avoided,(Rom.16:17).  But if the person is unsaved, was taught unsound doctrine or is a babe in Christ, then he/she needs to be taught/discipled in the love of Christ. As believers in Jesus Christ, it is God's command that we love Him, love one another, and love those who are not believers. We are to love even our enemies. (Mathew 5:44). To love them means also to give them the true gospel of the Scriptures, so they may come to Christ & be save.