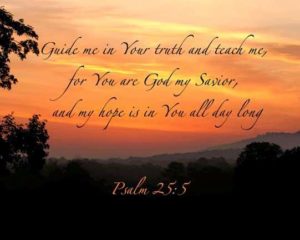 Psalm 25 is a beautiful prayer that reminds us that God fights on our behalf, that He can guides us, teaches us and instructs us if we ask Him. It reminds us that God can rescue us, protect us & keep us safe. God love us and is faithful in all His ways. If we live by faith (trusting Him) and we humble ourselves before God, He'll answer us when we pray for His forgiveness, deliverance and protection.
"The sacrifices of God are a broken spirit: a broken and a contrite heart, O God, thou wilt not despise". Psalm 51:17

"But the Lord said unto Samuel, Look not on his countenance, or on the height of his stature; for the Lord seeth not as man seeth; for man looketh on the outward appearance, but the Lord looketh on the heart." 1 Samuel 16:7
PSALM 25 (Audio) – A Psalm of David
1  Unto Thee, O Lord, do I lift up my soul.
2  O my God, I trust in Thee: let me not be ashamed, let not mine enemies triumph over me.
3  Yea, let none that wait on Thee be ashamed: let them be ashamed which transgress without cause.
4  Shew me Thy ways, O Lord; teach me Thy paths.
5  Lead me in Thy truth, and teach me: for Thou art the God of my salvation; on Thee do I wait all the day.
6  Remember, O Lord, Thy tender mercies and Thy lovingkindnesses; for they have been ever of old.
7  Remember not the sins of my youth, nor my transgressions: according to Thy mercy remember Thou me for thy goodness' sake, O Lord.
8   Good and upright is the Lord: therefore will He teach sinners in the way.
9   The meek will He guide in judgment (H4941: justice, rectitude) and the meek will He teach His way.
10  All the paths of the Lord are mercy and truth unto such as keep His covenant and His testimonies.
11 F or Thy name's sake, O Lord, pardon mine iniquity; for it is great.
12  What man is he that feareth the Lord? him shall He teach in the way that He shall choose.
13  His soul shall dwell at ease; and his seed shall inherit the earth.
14  The secret of the Lord is with them that fear Him; and He will shew them His covenant.
15  Mine eyes are ever toward the Lord; for He shall pluck my feet out of the net.
16  Turn Thee unto me, and have mercy upon me; for I am desolate and afflicted.
17  The troubles of my heart are enlarged: O bring Thou me out of my distresses.
18  Look upon mine affliction and my pain; and forgive all my sins.
19  Consider mine enemies; for they are many; and they hate me with cruel hatred.
20  O keep my soul, and deliver me: let me not be ashamed; for I put my trust in Thee.
21  Let integrity and uprightness preserve me; for I wait on Thee.
22  Redeem Israel, O God, out of all his troubles.
Outline
A prayer for direction, forgiveness & deliverance
I. Looking to God for direction
a. Trust in God (1-3) David chose to trust and depend on God in facing his enemies.
b. Show me Your ways (4-5) He prayed for direction. 'And ye shall seek me, and find me, when ye shall search  for me with all your heart' Jeremiah 29:13
c. Remember your tender mercies (6) 2 Corinthians 1:3 but Remember NOT the sins of my youth (7)
II. In these verses, David turns from a request of God to reflections about God. (8-15)
a. God is good and upright (8) Matthew 19:17.
He guides the humble (meek) (9) and teaches them. -'Blessed are the meek, for they shall inherit the earth'. (Matthew 5:5)
He is merciful to those who keep His word. (10) We can't expect His mercy if we keep rebelling against Him (Matthew 7:21-23, Hebrews 12:14).
b. Pardon my iniquities (11) David asks forgiveness for his sins. Those who confess & forsake their sins will have mercy (Prov.28:13)
c. He who fears the lord (12-15) God gives further knowledge and understanding to those who are reverent & respectful of Him; to 'fear' the Lord is to be respectful of the Lord, His son Jesus, His Word.
The secret of the Lord is with those who fear Him, they will understand ( Matthew 13:10-15)
'He shall pluck my feet out of the net' We look to the Lord for deliverance.
III. David pleads for forgiveness & deliverance (16-22)
a. David ask the Lord to bring him out of his distress (16-17)
b. Again he asks for forgiveness (18) & again, he asks the Lord to deal with his enemies.(19)
c. He keeps trusting in Him. He prays for protection & deliverance & he is willing to wait. (20)
d. Let integrity and uprightness preserve us. (21)
David concludes not thinking just about himself, but about all of those who
belong to the Lord & have a covenant with Him (22).
Conclusion
David was not without sin. He made many mistakes, & some very big ones, but God forgave & restored him, because He loved David's  humble heart towards Him.
Let us approach God in the same spirit of humility and reverence as king David did, believing in God's goodness as we make our requests known to Him.
"He that covereth his sins shall not prosper: but who so confesseth and forsaketh them shall have mercy.
Happy is the man that feareth alway: but he that hardeneth his heart shall fall into mischief. (H7451-adversity)" Proverbs 28:13-14