10 Because thou hast kept the word of my patience, I also will keep thee from (G1537: out of, away from) the hour of temptation, which shall come upon all the world, to try them that dwell upon the earth. Rev.3:10
If you have read my latest posts, then you probably know that I think we may already be in the timing of the 4 horses of Revelation. I explained what I believe was the white horse, and now we are entering the time of the red horse (wars), & I think the war will become worse very soon (WWIII), involving some NATO members (Like Uk & Ger) including US (1st-9th are days of concern), and it will continue into 2023, (there are also problems w/ Ch & islands, N.K. etc.). According to the Book of Revelation after the red horse comes into scene, then the black horse or 'hunger' will ride.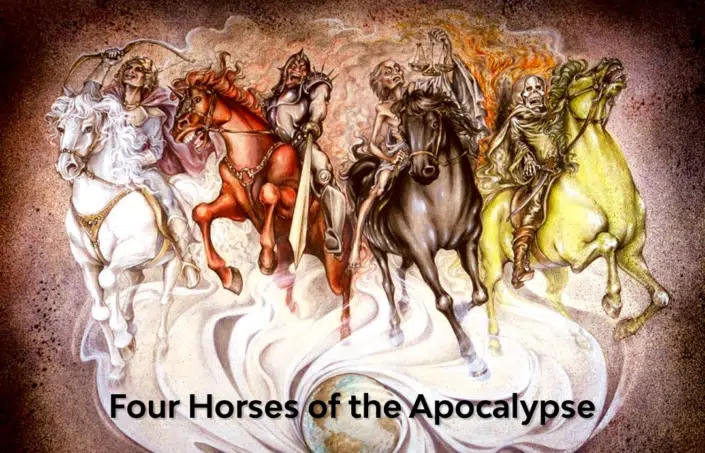 As we start going through these terrible events, the words at the beginning of this Book now make much more sense, because all those that read or heard & kept the words have been preparing for these events, like Noah, Joseph, & many others in the Bible did, after believing what God had said. "Blessed is he who reads and those who hear (G191=to attend to, consider what is or has been said) the words of this prophecy and keep those things which are written in it, for the time is near." Rev.1:3
And I saw when the Lamb opened one of the seals, and I heard, as it were the noise of thunder, one of the four beasts saying, Come and see. 2 And I saw, and behold a white horse: . . . 4 And there went out another horse that was red: and power was given to him that sat thereon to take peace from the earth, and that they should kill one another: and there was given unto him a great sword.

5 And when he had opened the third seal, I heard the third beast say, Come and see. And I beheld, and lo a black horse; and he that sat on him had a pair of balances in his hand. 6 And I heard a voice in the midst of the four beasts say, A measure of wheat for a penny, and three measures of barley for a penny; and see thou hurt not the oil and the wine.

7 And when he had opened the fourth seal, I heard the voice of the fourth living creature, Come and see. 8 And I looked, and behold a pale horse: and his name that sat on him was Death, and Hell followed with him. And power was given unto them over the fourth part of the earth, to kill with sword, and with hunger, and with death, and with the beasts of the earth. Rev. 6:1-8
The black horse with its rider tells us about a world famine that will come upon the earth, due to the extreme scarcity of food. A measure of wheat or 3 of barley was the daily consumption ration of a soldier. A denarius or penny was back then a Roman coin that was equivalent to a day's wages. Imagine if what you make in a day is the cost of a meal for one person & no more money left for anything else. The oil and wine were symbols of luxuries that will only be enjoyed by people without economic difficulties, or the rich. There will not be enough food to eat, but there will be no lack of wine or oil, although it will only be for those who can pay their high price. This is hyperinflation.
If you haven't yet, please start buying & properly storing food that you & your family normally eat, or start cultivating something, even if is only 1 kind of fruit, vegetable, or storing a good sources of protein like lentils, almonds, oats, but let the Lord guide you. "Except the Lord build the house, they labour in vain that build it: except the Lord keep the city, the watchman waketh but in vain" Ps.127:1). If this is happening WORLD WIDE then we won't have help from other countries to import food, people living today have never seen anything like this before.
I saw some comments online about the Oscar's 94th Academy Awards at the end of March, & it call my attention the opening performance by Beyoncé (aka Queen B), which featured a cameo with a riding black horse and people dressed with the color for the pale horse (death). And she sings a song called 'Be Alive' also dressing same color on a tennis court. Next song was 'No time to Die'.
Rev, 6:8 says " 8 And I looked, and behold a pale (G5515= greenish, green pale, yellowish color) horse: and his name that sat on him was Death, and Hell followed with him." Of course they say is the color of the tennis ball & that is all about the Williams sister's, also the song is from the film 'King Richard' which is about them and their controversial coach & father Richard. But what about the black horse, was that just a coincidence? it could be, but still I find it interesting the 2 colors of the next 2 horses of Revelation in the same scene plus the titles of their 2 songs related to live & death. More news about black horses lately.
Also on those same days of the awards, BlackRock President Rob Kapito warned about "scarcity inflation". But even the UN as many other organizations are warning of global starvation. Right now, we can notice shortages of certain items in grocery stores across the United States, and food supplies have gotten very tight all over the globe.
If of all the above wasn't enough, we also have a lot of incidents happening in many food processing plants (At least 18 food processing plants burned in the last six months), & the destruction of 27 millions of chickens, ducks & turkeys in 30 states do to the bird flu epidemic.
Another food processing plant gets hit and finally someone is covering it. Bout time. pic.twitter.com/DxTXoWyRsB

— Secret Squirel (@cbcool2532) April 22, 2022
Farmers are being paid to not farm. The food for their animals also went up. Lack of rain in the West, fertilizers were cut during the planting season, gas prices going up the roof, & a fifth of world's Container-ships are stuck in port congestion right now. There is no way all these events at the same time are just a coincidence, this famine is been orchestrated. Sadly many believers still asleep in lukewarmness or waiting for the problems to be solved & are not preparing for what is obviously coming, it is biblical to prepare, both physically & spiritually.
Another thing happening is the pushing for 'fake' meat while at the same time they destroy the real ones. With the excuse of climate change, the scarcity of food, bird flu, etc. they soon will dictate to us what we would be allowed to eat & what would be forbidden. Nevertheless our battle is not against flesh & blood, but spiritual (Eph. 6:12 ).
Now the Spirit speaketh expressly, that in the latter times some shall depart from the faith, giving heed to seducing spirits, and doctrines of devils; 2 speaking lies in hypocrisy; having their conscience seared with a hot iron; 3 forbidding to marry, and commanding to abstain from meats, which God hath created to be received with thanksgiving of them which believe and know the truth. 1 Tim.4:1-3
Please pray for your brothers & sisters globally, for the nations & for those that are calling upon His name for help. God is going to allow big shakings & judgments in order to clean His House (1 Pet. 4:17) of all the abominations & detestable things that have been done, and restore justice, because they have forsaken the Lord & His ways. But also because many of those who are lukewarm will wake up from their slumber & even many more unbelievers will also repent & come to Him. Always remember, live in this world is temporal.
These are serious times beloved, times of repentance, cleansing & prayer. Seek Him, those that draw close to Him got nothing to fear, Hes is your refuge & your fortress, but those lukewarm or that don't know Him, please I plead to you, get right with the Lord today!
"Do not fear, for I am with you; do not be dismayed, for I am your God.
I will strengthen you, I will help you, yes, I will uphold you with My righteous right hand. . . .

For I, the Lord your God, will hold your right hand, saying to you,
"Do not fear; I will help you."
Is. 41:10 &13
Update:
Beyonce on a Red horse – Vogue Magazine cover for Jul. 2022 Issue. B turns up the heat.